Most companies don't like it when their equipment sits around collecting dust – WE LOVE IT!
Dust Guards Inc. rents and professionally installs all equipment required to filter air in an area that is being renovated, ensuring dust does not move into other areas of the home.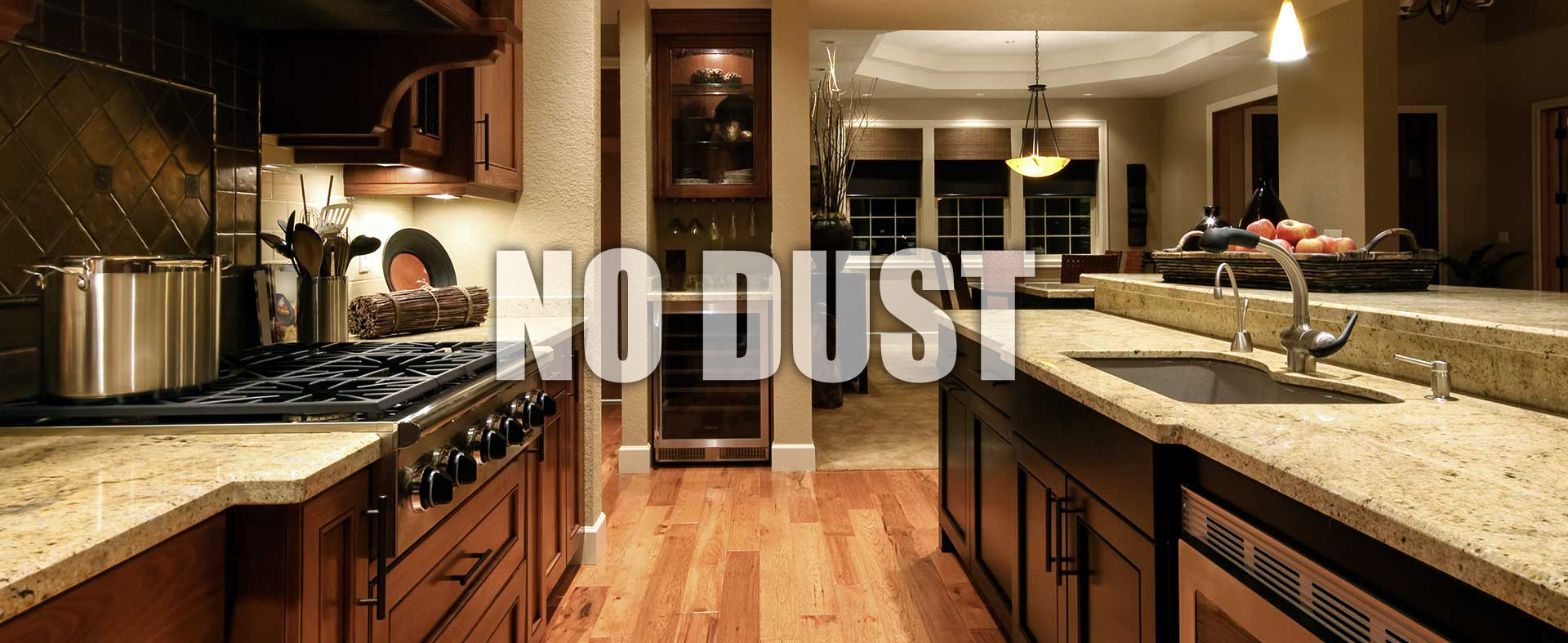 Installation
Dust Guard technicians come to your home and customize the installation of a poly barrier using spring loaded poles which ensure there is no damage to paint or finishings.  Magnetic doors are installed to provide easy access to the work area. The air scrubber, is placed to create a negative pressure in the area being renovated. Note: maintaining negative pressure within the area requires adherence to defined protocols (ie exterior windows and doors must remain closed).
Removal
Once your project is to a point where you no longer require the Dust Guard system, a technician will return to your home and dismantle the equipment and remove it, opening up the space to the rest of your home.
Our Commitment
We offer a service that reduces the stress of living in your home while it is being renovated. We strive to implement the Dust Guard solution for you as if the work was being done in our own homes.
Our Team
We're committed to a healthy, clean work environment within your home and providing quality, value added service. Our installers are trained to install the Dust Guard system, customizing it to fit your situation and to accommodate your contractor.
Our Customers Say…

"…Dust Guards System is the better way to go"
During our extensive bathroom renovations, we knew we were in for dust! Brian used his Dust Guards equipment and we were pleased with the very minimal dust throughout the house and it was also better for the air that he was breathing while doing the work. We've done renovations before, and using this Dust Guards System is the better way to go. It will help you decide to go through with any type of renovation! – Frank & Esther Giesbrecht, St. Catharines, Ontario "…we were living in a dust free home with healthy, clean air"
No sneezing, no itchy eyes and no extra allergy pills! Living with dust during major renovations at our home was not going to be fun when I have severe dust allergies…. Would I have to move out to my mom's?  Brian set up his Dust Guard system and equipment throughout our home before renovations progressed.  I was impressed that we were living in a dust free home with healthy, clean air and I could breathe even when dry walling was being done.  Our plants thrived and bloomed in the unique environment… even the picky orchids. I would highly recommend Brian and Dust Guards when you are doing home renovations. – ​Jennifer, Grimsby, Ontario "…No renovation dust…I highly recommend Dust Guards"
When I had to remove my old kitchen floor and replace it with a new one, I was dreading the daily mess I would have to face during the renovation. As someone who would rather move my home than live through the horrors of renovation dust, I was so relieved to hear about Dust Guards.  Dust Guards is a new and unique service and very affordable. Brian Tucker, a salt of the earth fellow, explained to me how it works. He comes in immediately before the renovation and tightly screens the area to be renovated. He places an air filter in the work area. A negative air flow is created where clean air flows from all other rooms into the work area. The dusty air created by the renovation in the work area is contained within the screening, is cleaned as it goes through the filter and is then pushed out into the clean rooms. No renovation dust enters the clean rooms. It is as simple as it sounds and it worked! I was so appreciative not to have to clean every room and every nook and cranny once the job was done, and so impressed with Brian, his service and the price that I want to help pass the word around as I'm sure others will want to benefit from this wonderful service too. I highly recommend Dust Guards.- Melanie Morris, Niagara on the Lake, Ontario
Keep renovation dust contained to the workspace and stop it from going through the rest of your home.
CONTACT US TODAY